Your Number One Natural Foods & Supplement Store, Right Here In Fairborn!
We offer top quality products from some of the finest manufactures of Health Foods and Supplements.
Our family and founders Gladys, James & Sherry Staup, established Fairborn Natural Foods in 1970.They started the business in the same original structure that Grandma Gladys Staup, Uncle James and Mama Sherry were raised in. Our family's health food shop & fitness gym was fully launched by 1971! Our Mother Sherry went on to meet our Father Jerry Dague right in our little shop and which leads us here today, with us at the current owners! Matthew Dague, Jamie Dague-Hausen, Fred Hausen III, and our newest addition Fred Hausen IV!    Our family has changed shape over the decades, but one thing stands tall and true. We love living and teaching others about health & wellness. Living a holistic healthy lifestyle, coaching, educating and continuously learning the many wonders and methods of the healing community & from the world around us in it's natural form.   In 2010 Jamie Dague-Hausen, Fred Hausen & Matthew Dague became official owners and purchased Fairborn Natural Foods!! We understand the importance of having the knowledge & experience along with the time to explain in detail the science and art of nutrition, supplements and self care. Our diligence in providing only the highest-quality dietary supplements, natural & organic products/stock. We love to provide you with accredited research, independent lab assays or researched clinical data on our products. Not only do we take pride in selecting our products, but we discount everything at 20% off everyday, no matter what! It had been our family's way of saying " Thank You" for coming in and shopping with us since the beginning.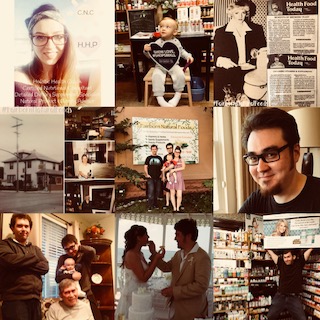 Meet Us
HHP, CNC, Health Educator, Owner 
Jamie Dague-Hausen-- 
Holistic Health Professional
Certified Nutritional Consultant
Detailed Dietary Supplement Specialist
Health & Beauty Adviser
Sports & Fitness Supplement Coach  
Graduate of Global College of Natural Medicine 
Member of American Association of Drugless Practitioners 
American Naturopathic Medical Accreditation Board.  
Apprenticeship to James Staup Jr. BS MS CNC